Don't rush out and get your best suit cleaned just yet.
The economy may be roaring back — but clients say the courts are not. We asked clients when they expect the court system to be mostly functional and operational. Most are taking the long view — with a small number thinking it's pretty soon. The numbers look like this: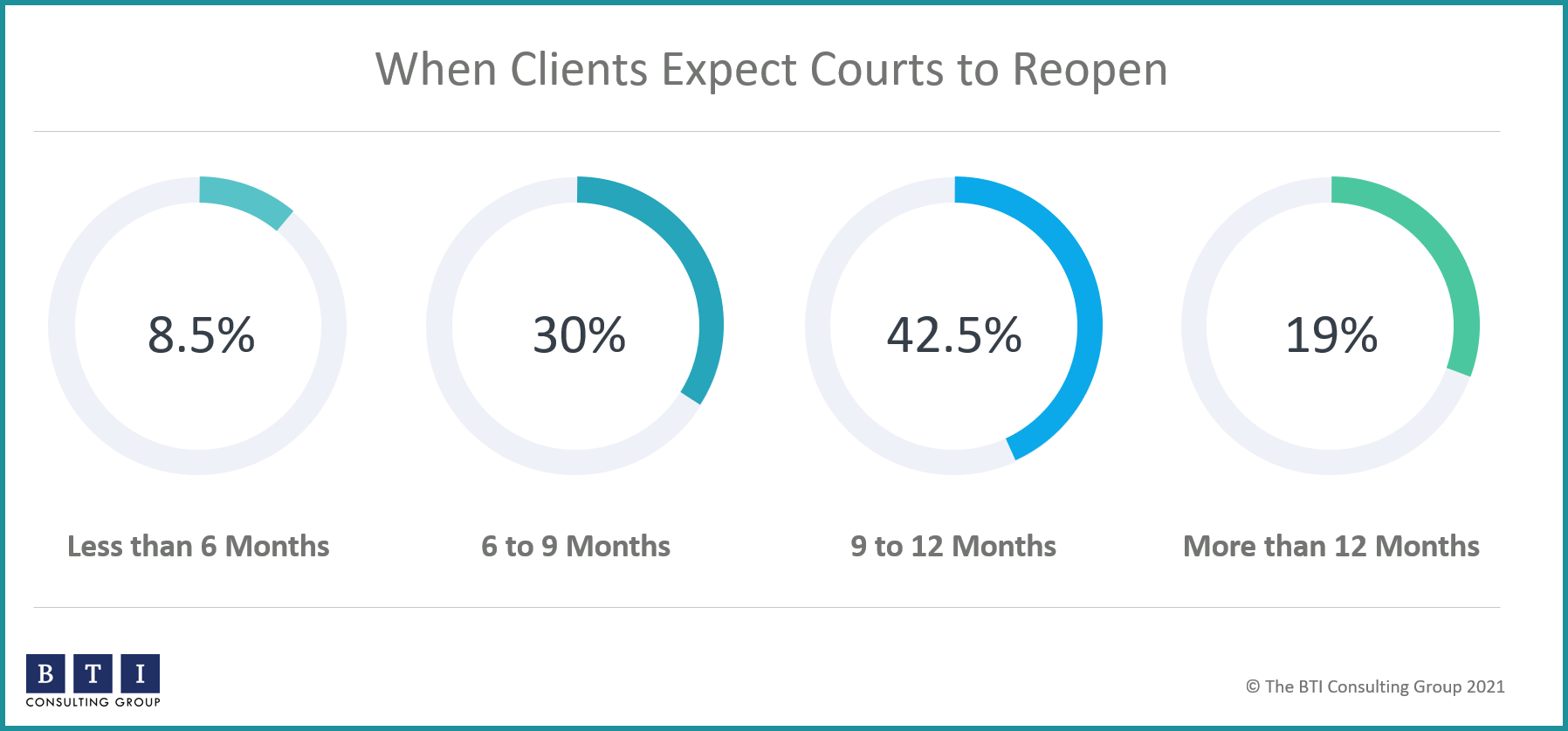 Nearly 3/4 of clients see the courts reopening in 6 to 12 months — with more thinking it will be closer to 12 months than 6. BTI research shows 19% of clients don't see courts functional until at least 12 months out. This adds up to more than 90% of clients not expecting court dates for at least 6 months.
Despite the far-out court dates, clients still have plenty to do. Clients expect to be consumed with the transition back to the office issues and the growing slew of agency actions they face. They are still focusing on data privacy and a few are taking time to automate and develop more formal workflow processes. And, M&A is taking a larger and larger role. Clients are looking to settle existing litigation and planning for what is coming next.
2 weeks ago, we analyzed when clients plan to have F2F meetings with clients. Clients plan to meet with outside counsel F2F about 2 to 3 months ahead of the projected court openings. The timing difference suggests clients expect to be getting ready for the court dates. As we recommend in our blog post, start the conversation about future court cases and court dates now. Ask your clients when they think the courts will be operational.
This one question opens the window to near-term planning, pressing needs, and longer-term needs. You can also share when other clients think courts will be operational — and you immediately move into sharing ideas — one of the most powerful business development tools.
Be safe. Be cautious.
MBR
The Mad Clientist
News and Events
BTI Client Service A-Team 2021:
Survey of Law Firm Client Service Performance
Order Today
BTI Litigation Outlook 2021:
The Pandemic-Led Market, Just Released
Order Today
BTI Market Outlook and Client Service Review 2021 Webinar
Watch Now