years of insightful listening
The best performing law firms in the world can't get enough client feedback
Experience a new world view of your clients from best-in-class client feedback
BTI World-Class Client Feedback Programs
The most potent, compelling, engaging insight to immediately drive action and boost performance while creating growth for your firm.
72% of clients want to give their law firm feedback
Only 30% of law firms ask in a meaningful way
BTI is the undisputed leader in law firm client feedback. We help our clients create the most robust and enduring client relationships. Our customized approach and probing interviews with corporate counsel and top legal decision makers are as engaging for your clients as they are compelling for you.
World-class compelling interviews
High-impact, granular and actionable results
The most robust and enduring client relationships
BTI's Unmatched 7-Step Custom Client Feedback Program Approach
Customized and tailored solutions integrating 30 years of experience and insight.
BTI's 17 Activities Driving Superior Client Relationships
BTI's research with more than 20,000 buyers of professional services isolates 17 activities essential to delivering superior client service and driving superior relationships. Corporate counsel assess each activity on 2 dimensions—importance and differentiation—to identify the activities most important and most influential when evaluating legal providers.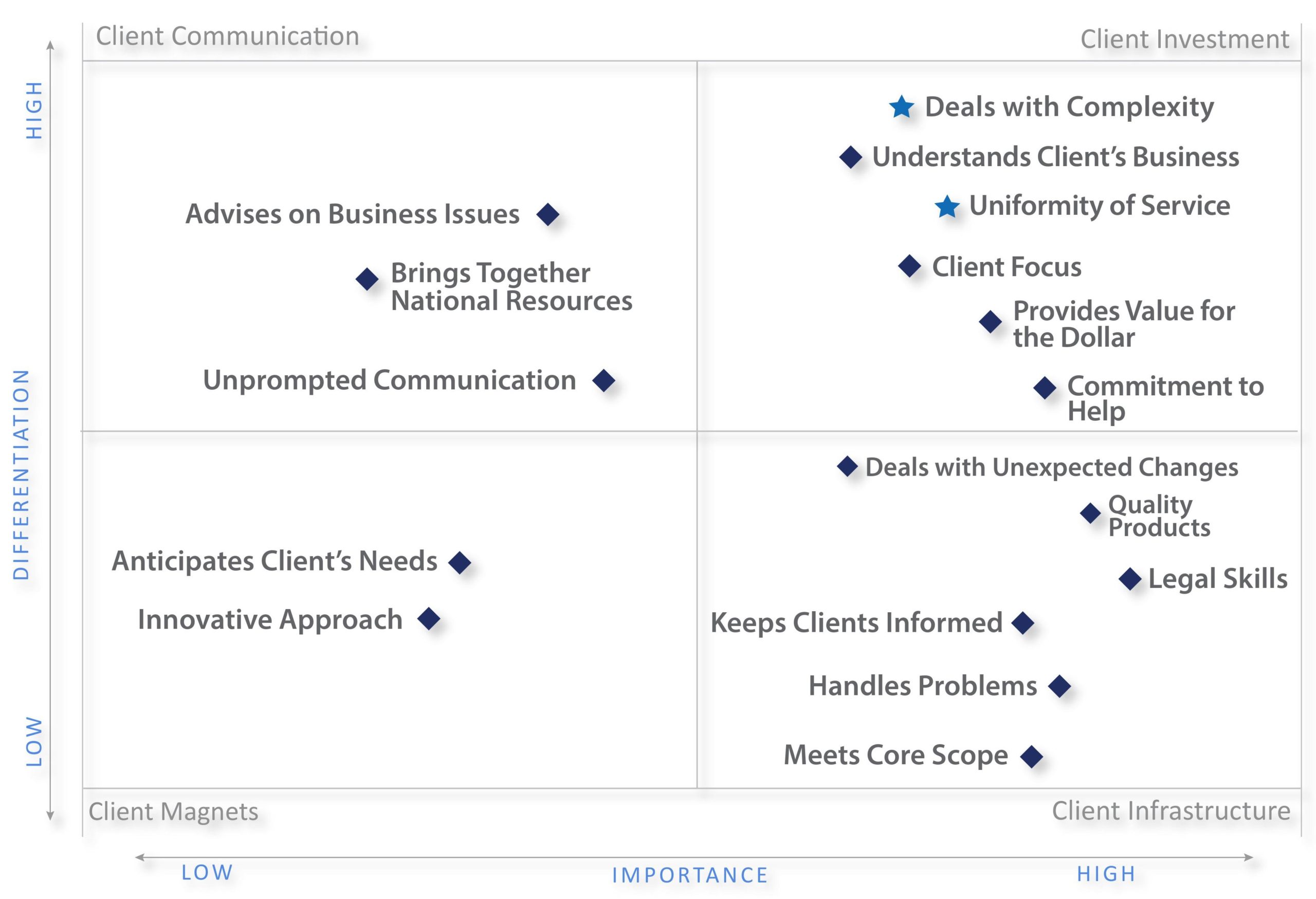 Top legal decision makers see the above client service activities as interrelated. In addition, the activities in the upper right quadrant impact all the others.
How We Help Our Clients
The best performing law firms in the world can't get enough client feedback.
Law firms use third parties, leadership and relationship partners, and online surveys to obtain, analyze and put client feedback to work—to improve client service while building substantial amounts of new business. Global law firms know client feedback is essential for current and future performance.
One thing we've learned in our 30 years: it's easy to ask the wrong questions. Even easier to get the wrong answers. We know which questions really work, the clichéd questions to avoid, and how to go off script when clients take you places you really need to go. This makes the interview as engaging for your client as it is compelling for you.
Our innovative programs help you achieve granular, actionable, and high-impact insights, plus a world-class branding experience for your clients with our compelling interviews. You also get engaged, driven, and empowered partners who go out and build better client relationships.
Our programs allow you to draw on the most robust insights into your client's thinking and immediately leverage this strategic tool and give your firm a clear path to help drive growth and boost performance:
Reap the Rewards of a Powerful Client Feedback Program Today
Learrn how BTI can help you and your firm strategically and dramatically boost your performance with customized client feedback programs. Contact us for detailed information, questions, and comments.