BTI Litigation Outlook 2021:
The Pandemic-Led Market
The largest segments of litigation are getting more funding at the expense of other segments. Your definitive guide to this split market is here. We offer the only post-pandemic, in-depth interviews with top legal decision makers managing litigation:
Clients face the largest increase in caseloads in history
An overwhelming number of clients are keeping their budgets flat
Litigation managers are moving budgets and in-house resources to manage the load
Top legal decision makers expect to hire new law firms to help them with their new reality
Look for changes in 8 of the largest segments of legal spending as clients reallocate budgets
You have only 1 source to decipher this market, seize the opportunities, and prepare for the stress points — the BTI Litigation Outlook 2021: The Pandemic-Led Market
Order Today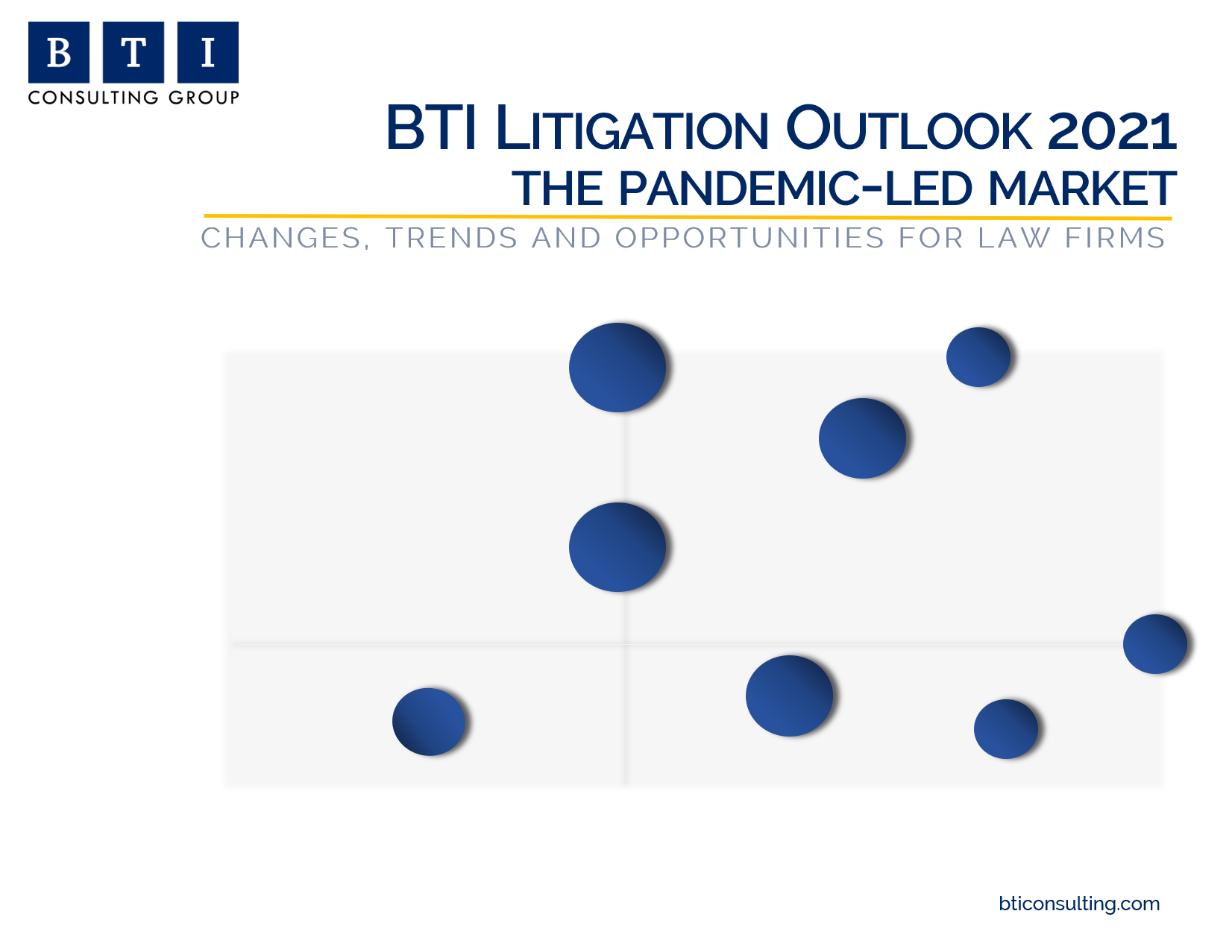 Clients See Everything Through a Brand-New Filter:
Learn How to Adjust Your Approach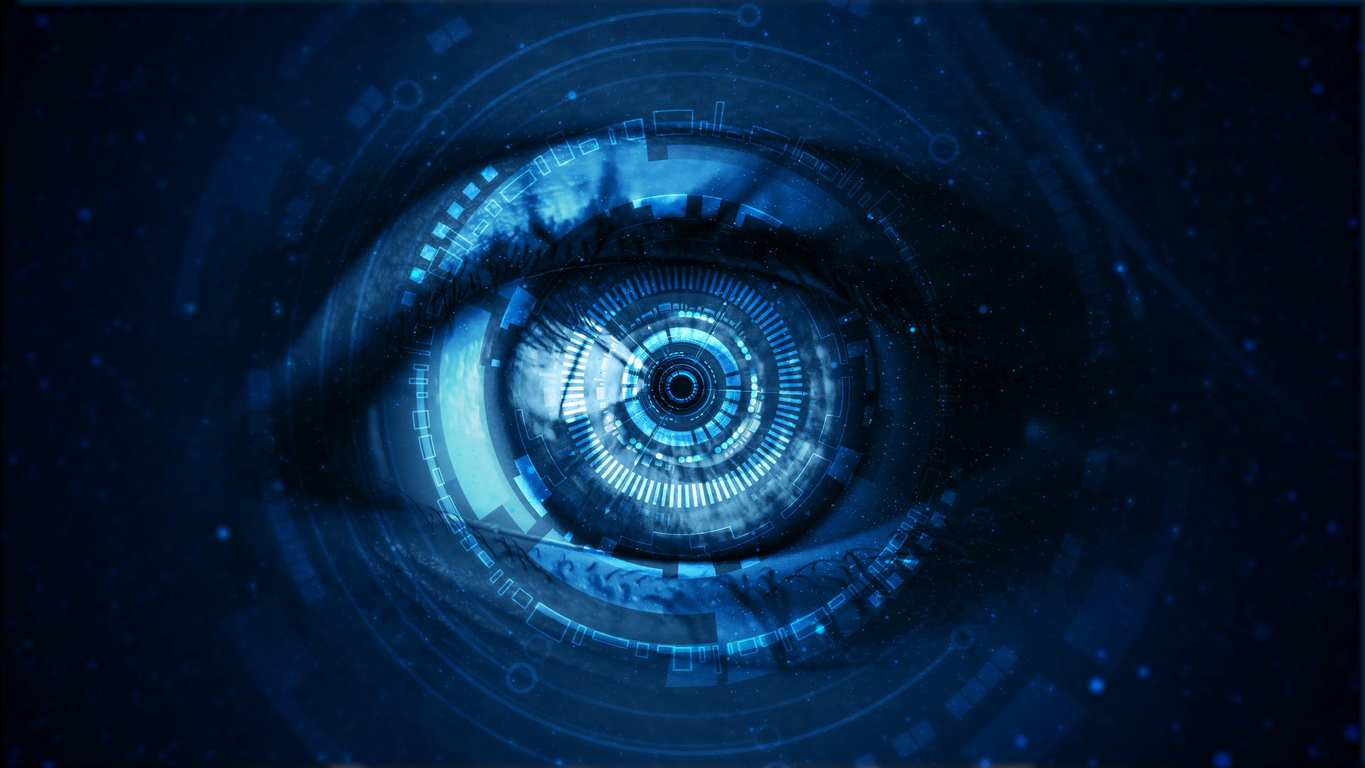 Clients have seriously changed their expectations — having been pleasantly and unpleasantly surprised by law firm response.
We conducted more than 240 in-depth interviews with top legal decision makers managing litigation for a deep dive into where we are and where the market is headed.
Clients are reallocating legal spending between segments:
Almost 40% of clients are expecting caseloads to more than double
All clients are expecting a bigger caseload — some very big
4 of the biggest segments are getting increased budgets
3 segments will shrink
Clients plan to hire new law firms to meet the need
Few are planning outright cuts
Top decision makers want strategy, engagement, and a host of other things
Opportunity Heat Map
The market is still ripe with opportunity — if you know where to look. BTI details the litigation hot spots (higher rates) and pressure points (serious rate pressure) for 8 segments and 18 industries. Discover exactly where to invest and target resources with precision.
Learn by name the 143 law firms client see best suited for:
Complex Commercial Litigation
Complex Employment Litigation
Ongoing Commercial Litigation
Ongoing Employment Litigation
IP Litigation
Product Liability Litigation
Securities and Finance Litigation
Class Actions
Cybersecurity Litigation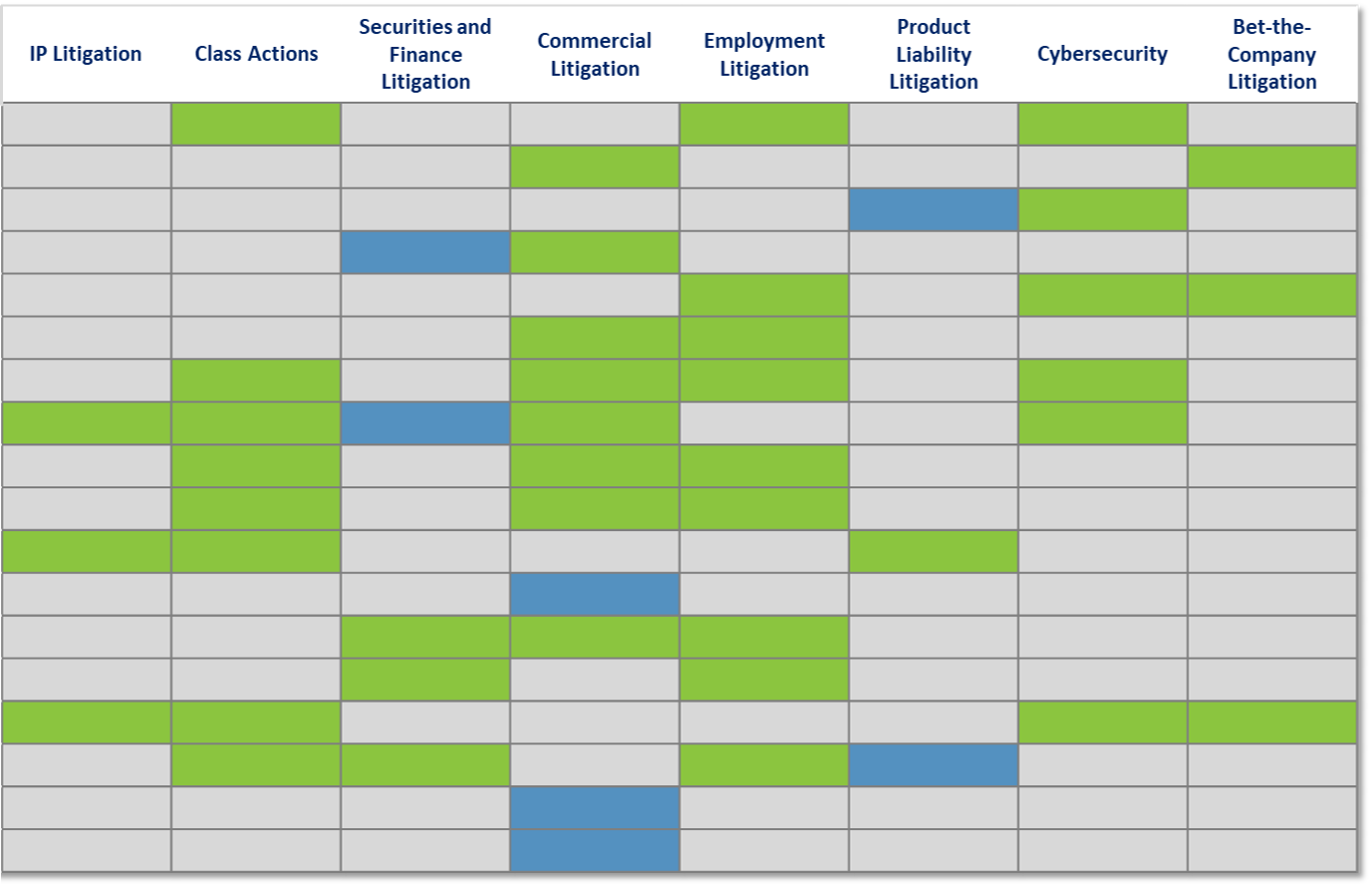 Some firms have gained cherished brand, while others suffered dilution, as clients reassess performance in light of response during the pandemic.
Learn where you and your competitors stand in each of the 8 major segments of litigation — by name as your clients see it.
Some Firms Have Unintentionally Been Rebranded
Compare Your Performance Against 8 Competitors of Your Choice
See how you stack up compared to your handpicked peer group, or we can tell you who clients say you compete with. You are likely to be surprised.
You will also receive a 5-year analysis of your performance in the litigation market.
This insightful, custom analysis is included in the price of your report.
The BTI Fearsome Foursome
Meet the law firms client don't want to see on the other side of the table in litigation. These litigation-savvy firms command unmatched respect and can make their opponents rethink their strategies — taking control by their mere presence and hard-earned brand.
For the 2nd year in a row, Quinn Emanuel earns the coveted number 1 spot among the BTI Fearsome Foursome. This elite group of firms also includes Jones Day, Kirkland & Ellis, and Latham & Watkins.
Congratulations to The BTI Fearsome Foursome of 2021 for their intense approach and fierce tactics in today's complex legal market.
Quinn Emanuel Urquhart & Sullivan
Jones Day
Kirkland & Ellis
Latham & Watkins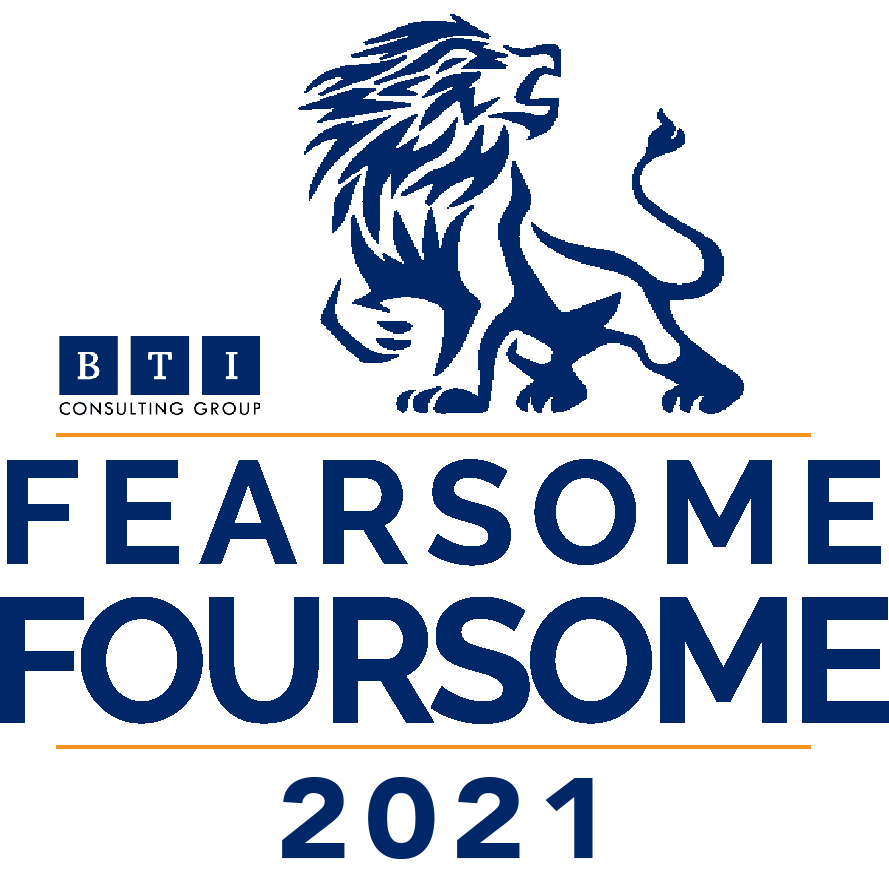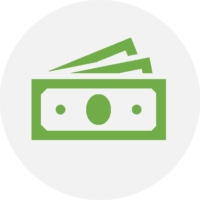 Flexible Billing Options
BTI is pleased to offer our clients several billing options, including deferred billing and payment plans. Whichever option you choose, you will immediately receive your report.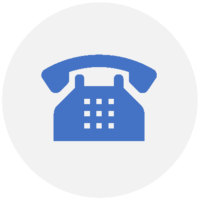 Unlimited Telephone Support
Your copy of BTI Litigation Outlook 2021: The Pandemic-Led Market also includes unlimited telephone support. Call The Mad Clientist himself, Michael Rynowecer, and discuss any aspect of the market and this report — all included in the price of the report.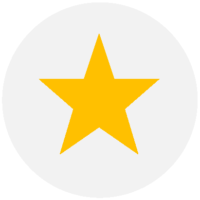 Satisfaction Guaranteed!
If the BTI Litigation Outlook 2021: The Pandemic-Led Market doesn't meet your highest expectations, we will give you a full refund. No questions asked.
Deferred Billing Option
We are offering deferred billing.
Order now and we can invoice your firm in January with your authorization. Don't wait until others are in the market — order today!
Order Today
Order Today
BTI offers several convenient billing options, including deferred billing or payment plans.
Choose the option best-suited for your firm. Regardless of billing choice, you will receive your report immediately.
Join the more than 150 law firms relying on the BTI Litigation Outlook 2021 as their definitive guide to the market.
Methodology
BTI Litigation Outlook 2021 is based solely on more than 240 in-depth telephone interviews with leading legal decision makers conducted between February 12, 2020 and August 12, 2020. This comprehensive analysis trends data from more than 9,000 corporate counsel client interviews conducted over the span of 20 years.
This research is independent and unbiased — no law firm or organization other than BTI sponsors this study.
Each year, BTI reaches out to a strategically designed group of top legal decision makers at large organizations with $1 billion or more in revenue. We target the decision makers in the industries who spend the most on legal affairs as well as thought leaders and innovative Chief Legal Officers. Our survey also includes Chief Legal Operating Officers and business executives who hire and influence the selection and hiring of law firms.
Participants are granted confidentiality at the individual and organizational level.
Executive Summary
BTI Litigation Outlook 2021: The Pandemic-Led Market is chock full of insight, unavailable anywhere else. It guides you through this new and frenzied market — and beyond. Long considered the gold standard — BTI Litigation Outlook 2021: The Pandemic-Led Market is your road map to the new litigation world.
For a more in-depth look at the BTI Litigation Outlook 2021, download a complimentary copy of the executive summary or reach out to BTI Consulting with any questions.