Client service soared. It didn't just go up — it soared over the last 12 months. And top legal decision makers also turned client service on its head. Clients are using new criteria to separate the excellent from the merely good. They virtually doubled the number of mission critical and most influential client service activities. Of the 17 activities defining client service — 7 now deliver more client service horsepower than the other 10. These are:
Quickly Assessing the Situation — new this year
Mobilizes Resources Quickly — new this year
Fielding the Absolute Best Team — new this year
Commitment to Help
Delivering Value for the Dollar
Client Focus
Understanding Your Client's Business
Clients changed their expectations each day as the pandemic crept in. They relied on a select group of mission-critical client service activities to select the law firms to help. And help they did.
Fully 69% of clients recommend their primary law firm to a peer. This is up from 49% last year and 47% the year before. And these are no plain recommendations — these are unprompted and made with no lists or suggestions. Each law firm earns this coveted recommendation on their own — the hardest to gain and the kind proven to drive inbound leads.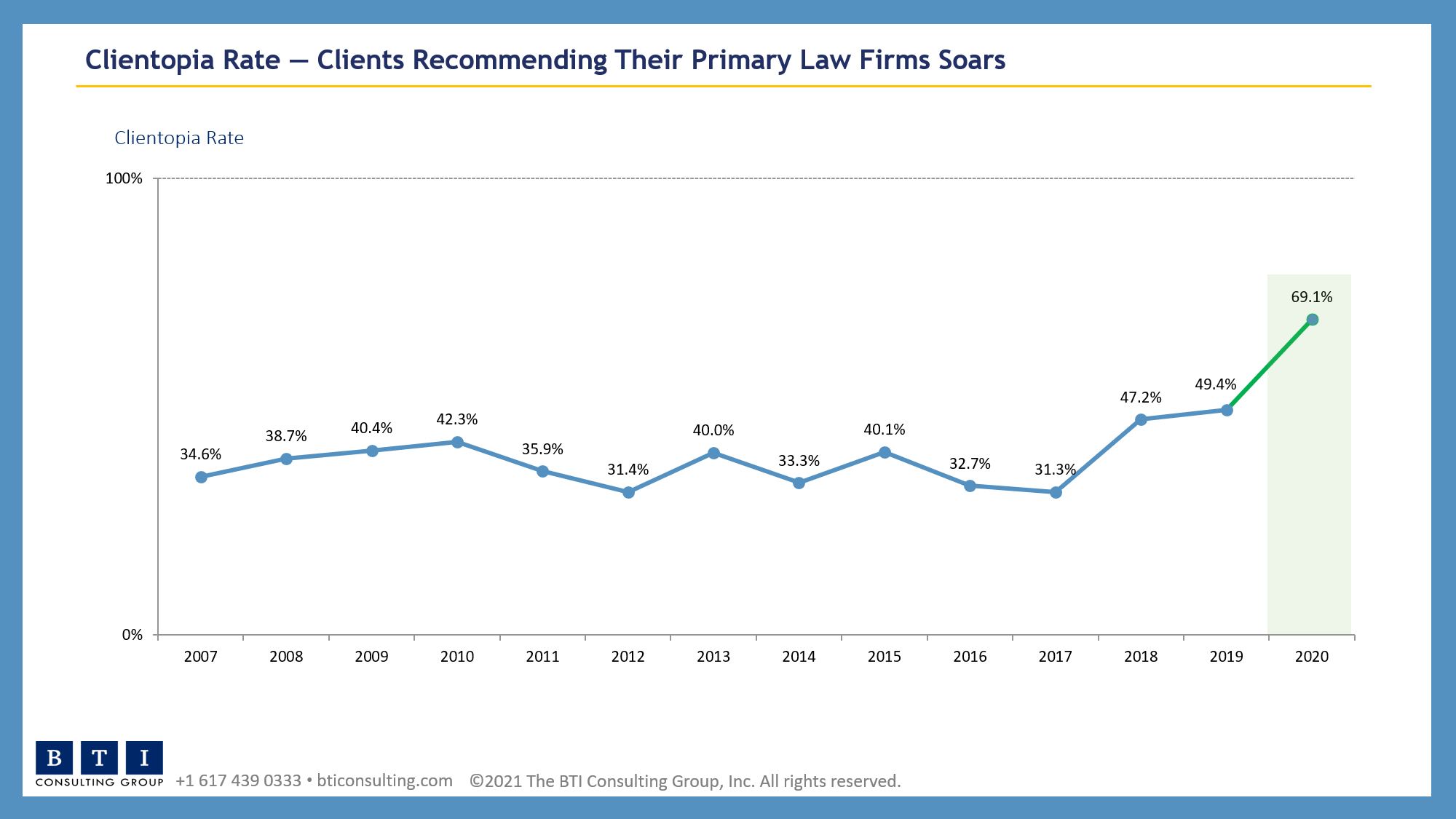 The top reason clients recommend a law firm: 64% point to excellent client service. Twice as much as any other reason. The more impactful examples include:
Responding quickly — often before clients even asked
Client-specific counsel — translating experience, research, and observation into succinct advice
Providing counsel to avoid or prepares for expected issues — before being asked
Voice-to-voice discussion — ongoing and meaningful discussions
Providing peer forums to share knowledge and strategies
We will be releasing the names of the 70 law firms improving their client service at twice the rate of all others next week in The MAD Clientist. The urgent need driven by the pandemic brought out the best in these firms.
We are feverishly working on the brand new BTI Client Service A-Team 2021: Survey of Client Service Performance for Law Firms — the only independent measure of client service based solely on client experience and feedback. Long considered the gold standard, this year's report is especially important as it reflects the current state of the next normal — and is the only place to do so.
Do you think soaring client service has anything to do with soaring profits and revenues?
Until then,
Be well. Be safe. Still, be cautious.
MBR
The Mad Clientist
News and Events
BTI Litigation Outlook 2021:
The Pandemic-Led Market, Just Released
Order Today
BTI Market Outlook and Client Service Review 2021 Webinar
Watch Now