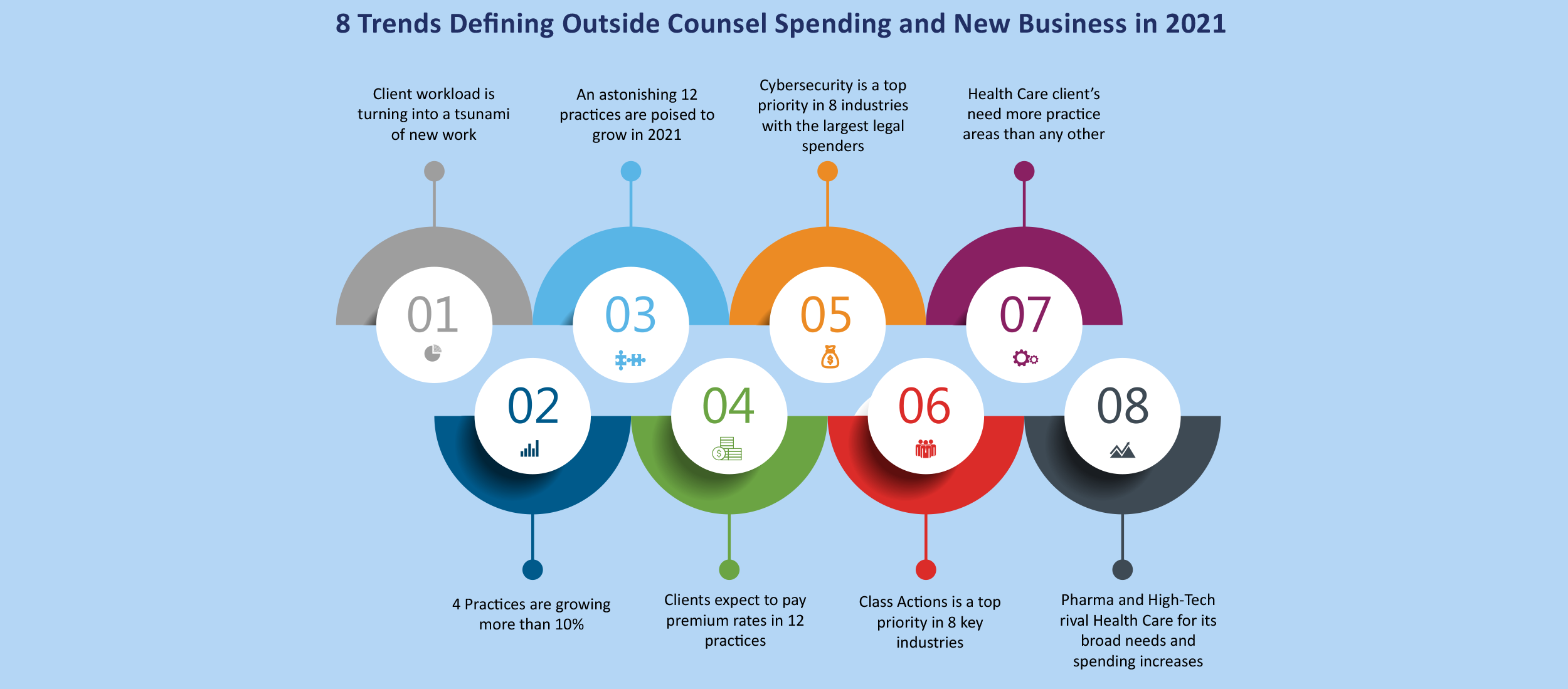 Law firms can stop walking on eggshells — at least when it comes to the market and outside counsel spending. After a 2- to 3-week hiatus in March and April — spending started moving back up. Clients found themselves with a plethora of new issues all landing on top of the old ones.
Agency actions are soaring with new guidelines — both final and interim — impacting almost every company in the US. Employees are bringing COVID-19 related actions and clients expect caseloads to soar. Top legal decision makers are increasing spending on outside counsel in 2021 — and looking for new law firms to help with all the new types of matters they expect to see.
8 Key Trends Shaping the Pandemic Led Legal Market in 2021
Clients' demands, needs, and priorities all pivoted in new directions as the pandemic kicked in. The pandemic continues to have a profound impact on legal spending, though client needs are becoming more defined. Growth for law firms in 2021 is dependent on understanding these key trends driving outside counsel spending next year:
Client workload is turning into a tsunami of new work
4 Practices are growing more than 10%
An astonishing 12 practices are poised to grow in 2021
Clients expect to pay premium rates in 12 practices
Cybersecurity is a top priority in 8 industries with the largest legal spenders
Class Actions is a top priority in 8 key industries
Health Care client's need more practice areas than any other
Pharma and High-Tech rival Health Care for its broad needs and spending increases
So Many New Trends Redefining the Legal Market
And it's not just changes of old trends, for the first time in years we found:
Both Outside Counsel and In-House Spending are headed up for the first time in 5 years
Clients are more open to awarding work to midsize firms than at any time in the last 10 years
Clients are flooded with new regulations covering the workforce and anyone who came near stimulus money
Despite bringing some work in-house clients know they need outside counsel help in a big way, and the issues clients face are only growing
BTI delineates all this and more in our brand new BTI Practice Outlook 2021: Pandemic-Led Legal Spending. This research is based on more than 240 in-depth independent interviews with top legal decision makers conducted during the pandemic. You get the most detailed, authoritative look at outside counsel spending for 2021 — for 14 practices and 18 industries.
Find the Hot Spots by Industry Fast — BTI's Industry Opportunity Matrix 2021
Map out spending with client plans for 14 practices and 18 industries — all in one place. Your in-depth look at how companies are changing the way they allocate their legal budgets in 2021 shows the impact the pandemic has had on the opportunities available to law firms. Learn the distinct set of characteristics for each practice and use them to your advantage to develop premium work with the most effective strategies. This is one of the most in-demand tools used by law firms.
Easily spot spending surges — and get the inside story on why and how to capture the new work. Only in the just released BTI Practice Outlook 2021: Pandemic-Led Legal Spending. Order today!
Good luck in the market ahead.
Be well. Be safe. Be cautious.
MBR
The MAD Clientist