Winston Churchill would be shaking his head in disappointment.
Widely quoted as saying; "Never let a good crisis go to waste" — he would be watching law firms let the record-setting client service in 2021 slip through their collective hands. Actually, it's more of a thud. Client service skyrocketed during the pandemic, peaking with 69.9% of clients recommending their top law firms from 40% the previous year.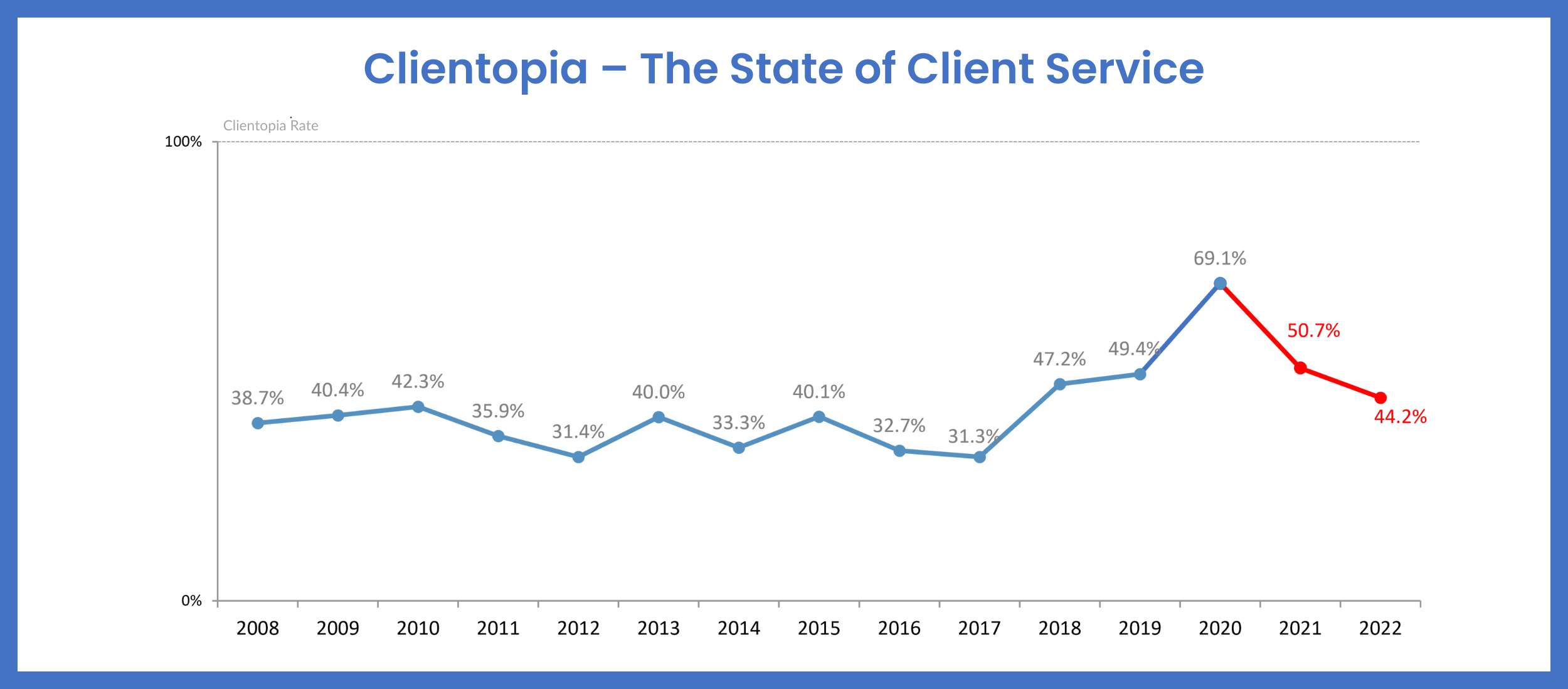 Fast forward 2 years and this same measure — we call Clientopia — dropped to 49.9%. This is the biggest 2-year drop in our 22 years of conducting the survey. 4 big reasons stand out:
Disappearing attorneys — clients report their attorneys left the firm or just got too busy to respond — and some retired and left. Clients believe they were left out in the cold.
Bad pairing — lagging responsiveness at a time when clients' needs for response soared. Clients are the closest to business operations they have ever been, fielding more questions from top management with urgency and relevance.
How firms declined work — there are 3 ways to decline work:

Refer the work somewhere else
No
Ghost clients (no response)

The only acceptable way to decline work is the first The other 2 will land you on the never recommend list. Unfortunately, clients report a lot of firms using the last 2 methods while they were running at capacity.

Glacial intake and mobilization — clients describe what they call the slow-motion approach to intake and mobilization. The time lag and effort to get up and running start things on a rocky note.
Every new bit of uncertainty creates a large need for better client service to match. The firms investing in client service protocols and infrastructure are jumping out in front of this equation — which serves in times of uncertainty and steadiness.
Superior client service continues to emerge as the tool to help guide clients through these dynamic and uncertain times. It is here to stay.
Learn where your firm is strong, where you improved, and areas in need of improvement — along with the 17 activities clients use to evaluate law firms — in the just-released BTI Client Service A-Team 2023: The Survey of Client Service Performance for Law Firms.
This is the most authoritative and only ranking of client service law firms use to guide their client-facing strategy and direction — with precision — to gain better performance faster. Learn more here.
Best in the market ahead.
MBR
The Mad Clientist