Uncertainty and fear are often linked.
With uncertainty as the dominant theme — The BTI Fearsome Foursome stand out more than they ever have. Undaunted by the unknown — their innate move is to rely on their resolve.
Top legal decision makers single out 46 firms they don't want to see on the other side of the table in litigation. We found 5 reasons:
1. Valorous
Bringing great courage in the face of high risk, danger, and uncharted waters. They relish the challenge and opportunity.
2. Savvy and Super Smart
Thinking quickly, spotting patterns, able to decipher and launch multiple strategies and can bring together all they learn as they go.
3. Energized
The fight brings out more energy. Increased challenge breathes new vitality into the Fearsome Foursome.
4. Mobilized
Acting expeditiously — swift but thought out. Always with the right resources. The ability to think on their feet helps makes this happen.
5. Unabating
The Fearsome Foursome just don't give up.
The BTI Fearsome Foursome 2023
For the 3rd time in the last 4 years, Quinn Emanuel earns the coveted number 1 spot among the BTI Fearsome Foursome. Please join us in congratulating them and all the firms recognized in this elite group.
The BTI Awesome Opponents 2023
Another 16 law firms stand out in their own right as BTI Awesome Opponents. Top legal decision makers see these firms as formidable opponents they would rather not litigate against.
The BTI Intimidating Opponents 2023
Another 26 law firms make their intimidating footprint known. Clients would prefer not to see these firms as they engage in litigation: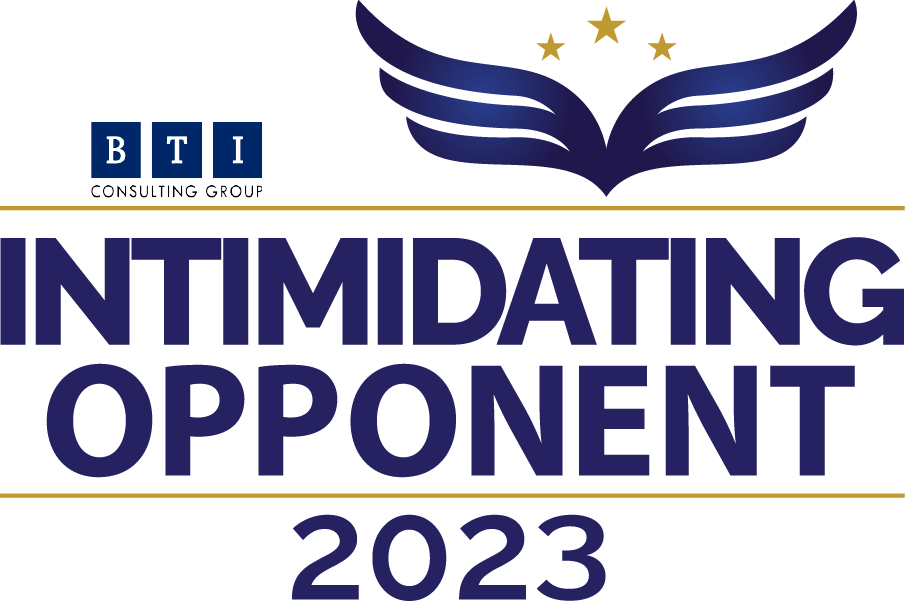 Being fearsome creates more uncertainty for the other side. The BTI Fearsome Foursome law firms make their opponents rethink their strategies, redirect already scarce resources, be extra vigilant and watch what these fearsome firm will do. And this is just the start.
You can learn why being fearsome is more differentiating than ever in BTI's just-released BTI Litigation Outlook 2023: Litigation Spending in the Uncertain Economy and Beyond. You can also see exactly where and how clients are spending their litigation dollars in 2023 for 8 segments and 18 industries. More than half of clients are increasing their litigation budgets despite what the pundits say about next year. Learn where and how they will spend it.
Maybe more importantly — learn how to get the increased spending with clever and proven business development tactics you can implement today.  Order today.
Best in the market ahead.
MBR
The MAD Clientist
Forwarded to you? Get your own copy every week! Subscribe below.
News and Events
New! BTI Litigation Outlook 2023:
Legal Spending in the Uncertain Economy and Beyond
Order Today
BTI Associate Satisfaction A-Listers 2022:
BTI Survey of Law Firms Where Associates are Happiest
Order Today
BTI Client Service A-Team 2022:
Survey of Law Firm Client Service Performance
Order Today