Recession almost pales as law firm leaders' top concern.
Our brand-new survey of more than 250 law firm leaders reveals their top concerns and a host of other leadership insights and issues. Conducted with my longtime friend and collaborator, internationally recognized law firm consultant Patrick McKenna, we dissect how these law firm leaders are approaching the long- and near-term future.
We asked law firm leaders what keeps them up at night. 6 concerns emerged, but 2 jump out as the most dominant sources causing sleepless nights: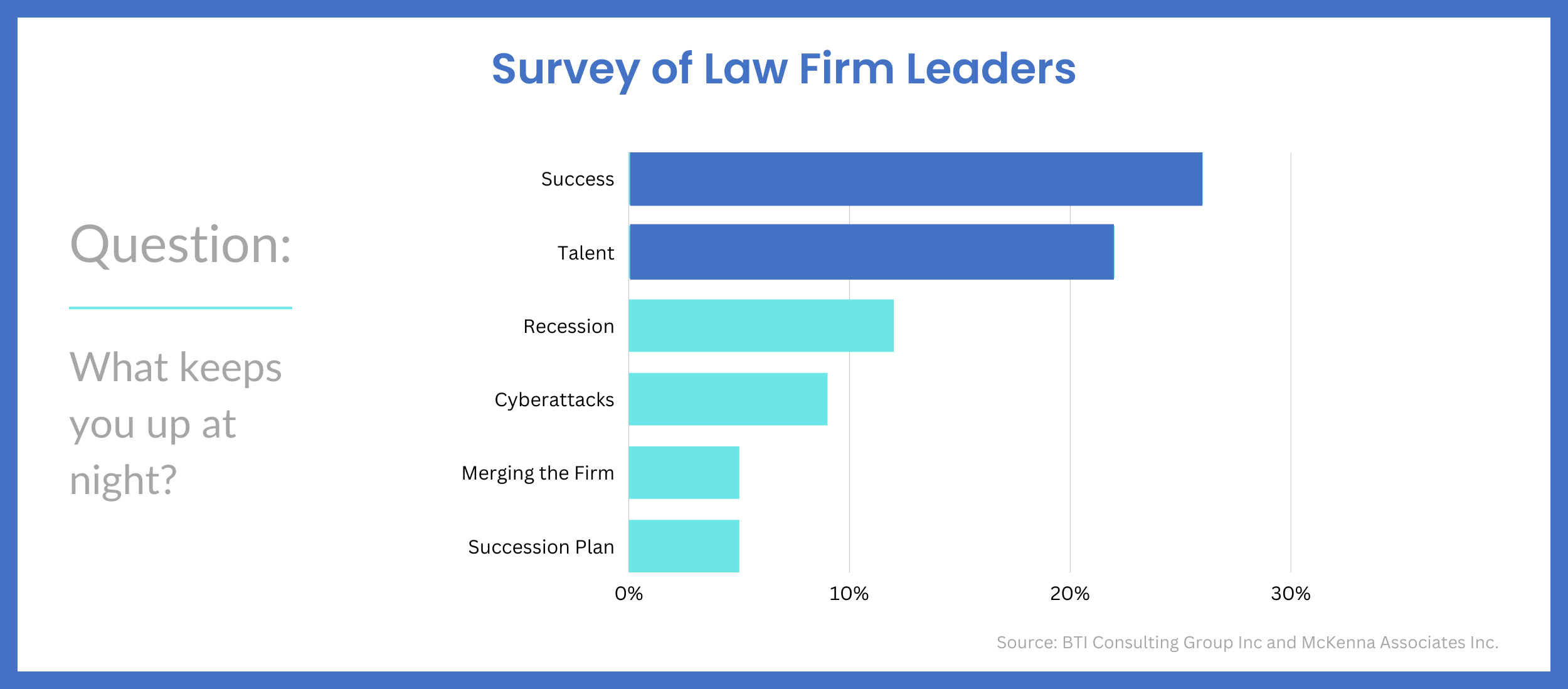 Overall success. At 26%, these leaders are looking past the recession. They want to keep the right strategic and operating initiatives going — and make the changes to drive success. Law firm strategy is a living, breathing organism — the law firm leaders are keenly watching for adjustments needed as a result of the uncertain world.
At 22%, law firm leaders are banking on retaining and attracting talent to drive success. These leaders are focused on bringing in rainmakers, filling gaps in key practices, and bolstering the bench in targeted growth areas. The hunt for talent is the most strategic it's ever been. Look for law firms to find better ways to retain and recruit the right talent for their goals.
Recession at 12% is the 3rd largest source of law firm leaders' insomnia. The primary worry here is when, how deep, and then how to adjust. They are watching early indicators like new assignments, BD activity, and billed hour trends.
9% are concerned most about cyberattacks. These pose existential threats. And as one law firm leader put things; "All you have to do is send a sophisticated looking but malicious email with partner comp in the subject line you have a potential disaster on your hands."
Merging the firm and succession planning come in at 5% each.
The recession lurks but it's not a top concern. So many have lived through at least one and have a good sense of what to do. In addition, these leaders feel they have already prepared the firm for a recession — it's baked into the strategy.
One of the big takeaways is the strong focus on strategy, which is reflected deeply in the 1st and 2nd concerns — overall success. These law firm leaders are looking ahead — as are those focusing on talent. The near-term impact of a recession is but one stop on the journey.
Look for more lateral movement, more strategic movement, and more focus on metrics and inputs as these leaders adjust their strategies. Talent will have a major impact on success — for firms of every size. Look for strategy and talent to become even more of a centerpiece than it ever was.
Best in the market ahead.
MBR
The Mad Clientist
Patrick J. McKenna
McKenna Associates Inc