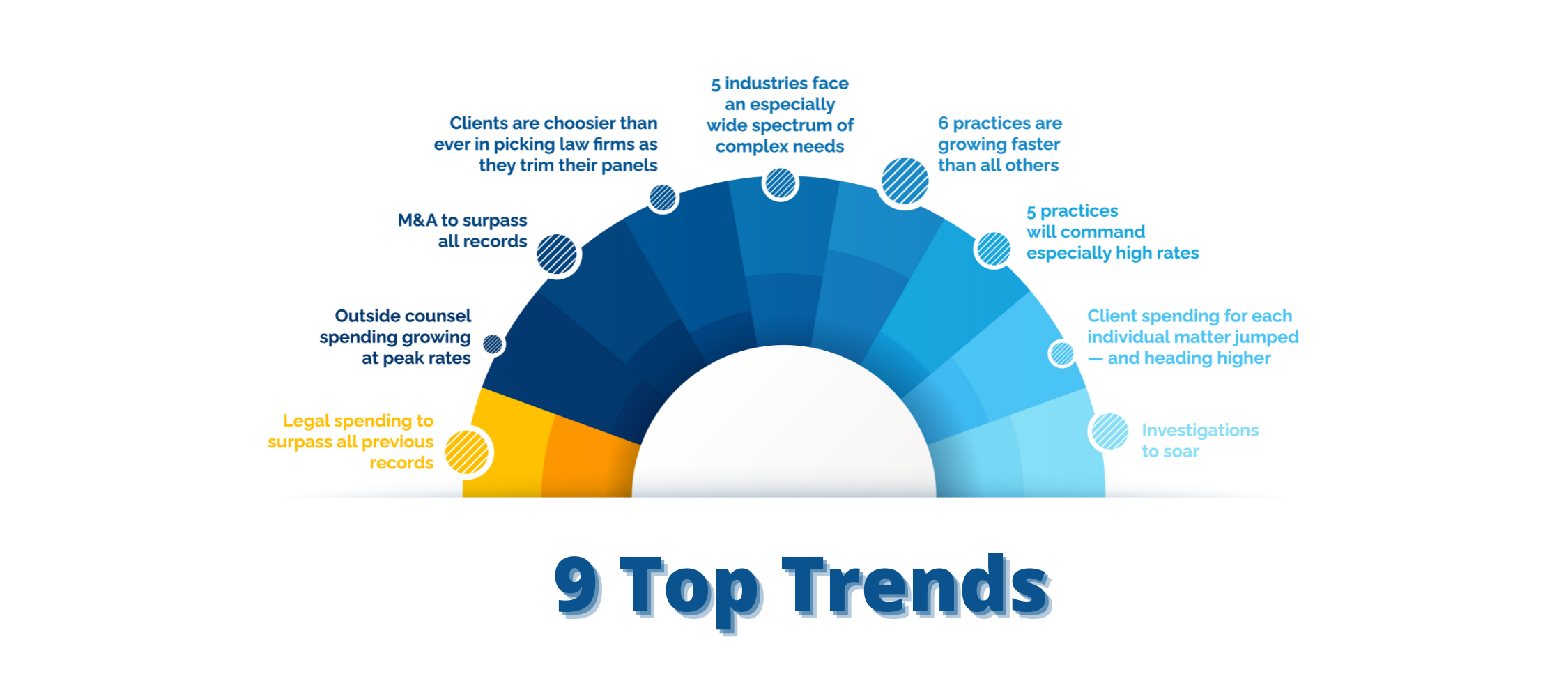 Buckle your seat belts.
High-end legal work for law firms is set to soar. The one-two punch of a surge in new matters — including a more active DOJ and the backlog of matters is triggering the biggest increases in over a decade. Top legal decision makers report a continuing stream of new complex matters — and they want to deal with them head-on.
After building their in-house staffs at the start of the pandemic they shifted gears and started looking to outside counsel — and this shows no signs of abating.
Here are the 9 top trends for 2022: Plan accordingly:
Legal spending to surpass all previous records

Outside counsel spending growing at peak rates

M&A to surpass all records

Investigations to soar

5 industries face an especially wide spectrum of complex needs

6 practices are growing faster than all others

5 practices will command especially high rates

Client spending for each individual matter jumped — and heading higher

Clients are choosier than ever in picking law firms as they trim their panels
You can learn exactly where the growth and highest rates are in our just-released BTI Practice Outlook 2022.
BTI delineates all this and more in our brand new BTI Practice Outlook 2022: The Surge in Legal Spending Arrives. This research is based on more than 240 in-depth independent interviews with top legal decision makers. You get the most detailed, authoritative look at outside counsel spending for 2022 — for 15 practices and 18 industries.
Find the Hot Spots by Industry Fast — BTI's Industry Opportunity Matrix 2021
Map out client outside counsel spending plans for 15 practices and 18 industries — all in one place. Your in-depth look at how companies are changing the way they allocate their legal budgets in 2021 shows the impact the pandemic has had on the opportunities available to law firms. Learn the distinct set of characteristics for each practice and use them to your advantage to develop premium work with the most effective strategies. This is one of the most in-demand tools used by law firms.
We provide tactical insight on exactly how to win the work in each practice.
Easily spot spending surges — and get the inside story on why and how to capture the new work. Only in the just-released BTI Practice Outlook 2022: The Surge in Legal Spending Arrives. Order today!
Best in the market ahead.
MBR
The Mad Clientist
Forwarded to you? Get your own copy every week! Subscribe below.
Keep Ahead of the Market with BTI's Latest Research Order Today!
News and Events
New! BTI Litigation Outlook 2022:
Post-Pandemic and Beyond
Order Today
BTI M&A Outlook 2022:
A Whole New World of M&A
Order Today
BTI Client Service A-Team 2021:
Survey of Law Firm Client Service Performance
Order Today