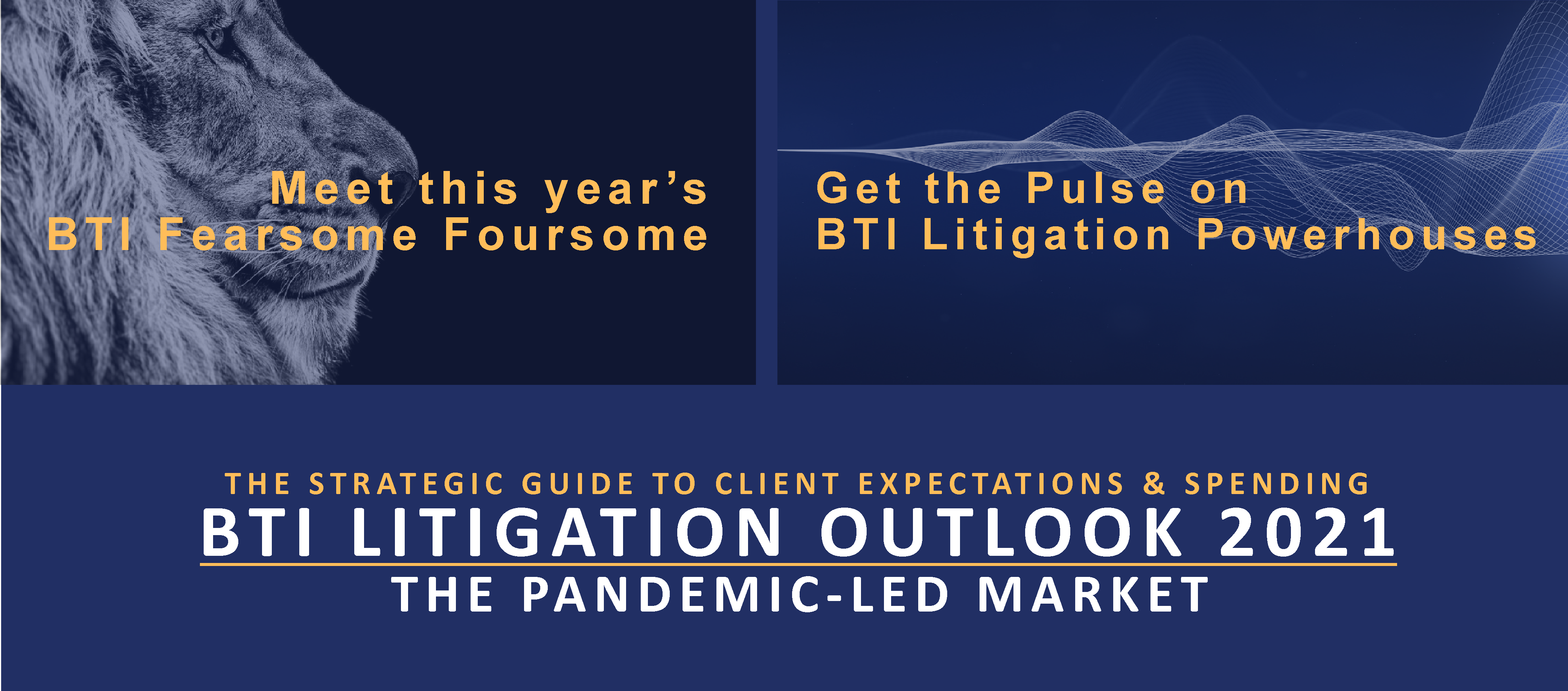 Fear can be healthy. It prepares you for imminent danger. It can help you improve your response to a potentially dangerous situation.
Fear is especially healthy for the BTI Fearsome Foursome. These are the firms top legal decision makers do not want to see on the other side of the table in litigation. Counsel opposite The BTI Fearsome Foursome often change their strategy and approach when they see these firms on the other side.
The pandemic changed everything, including what makes a law firm fearsome. Yet, the BTI Fearsome Foursome are all alumni. Their consistency in the face of seismic change suggests ferocity is cultural — a natural ability to hone in on the key issues and approach for any circumstance — and then pounce.
Top legal decision makers point to 21 firms as the opponents they do not want to encounter. The top reasons:
Tie Claims Together in New Ways
The sudden WFH and other pandemic-related demands create new circumstances and claims. The Fearsome Foursome are quick to spot these and use them to their client's advantage.
Very Early Assessments
No one ever has all the facts they want. The Fearsome Foursome operate with fewer known facts. They may adjust and pivot where needed but get out of the gate quickly — and have a strong record for being on the right track.
Decisive and Confident
Confidence comes with being comfortable with fewer facts, drawing on experience, and trust in their intuition. This enables the most feared firms to act quickly — often interpreted as aggressive and time consuming by the other side — adding to the fearsome persona.
Unbound by Convention
No-rinse and repeat here. These firms always have a new approach. These unanticipated approaches throw the opposition off guard and offer an advantage.
These 4 behaviors define key aspects of the Fearsome Foursome as the pandemic unfolds. Please join me in congratulating the following 21 firms.
THE BTI FEARSOME FOURSOME — The most feared law firms in litigation:
For the 2nd year in a row, Quinn Emanuel earns the coveted number 1 spot among the BTI Fearsome Foursome. Please join us in congratulating them and all the firms recognized in this elite group.
THE AWESOME OPPONENTS — Giving the BTI Fearsome Foursome a run for their money:
STANDOUTS — Ferociously nipping at the heels of the 10 firms above:
Being fearsome is a true differentiator, especially in today's market. Clients are about to face their biggest caseloads yet, along with some of the most novel cases they have ever seen. Making the other side reassess their strategy when they see you is a great way to start.
You can learn why being fearsome is more differentiating than ever in BTI's just-released BTI Litigation Outlook 2021: The Pandemic-Led Market. You can also see exactly where and how clients are spending their litigation dollars in 2021 for 8 segments and 18 industries. Order today.
Good luck. Be well.
MBR
The MAD Clientist