Only 15 to 20 industries account for 85% of US legal spending. Of the more than 1500 industries identified by the US Government, a small number will have an enormous impact on law firms. The same proportionality is true for law firm revenue.
The typical law firm with more than 200 attorneys derives about 44% of their revenue from its largest 25 to 30 clients – meaning managing risk, revenue, and keeping clients is downright crucial.
We found 3 major client categories: Beneficiaries, The Squeezed, and The Super Challenged. We realize there may be more, but these 3 constitute the bulk of the potential client base. We discuss each below along with 5 recommendations for immediate action.
Some clients will benefit and end up thriving even though growth will be dulled during the pandemic. Most have cash flow and are essential businesses – some of which are part of the fight against the pandemic. These industries include: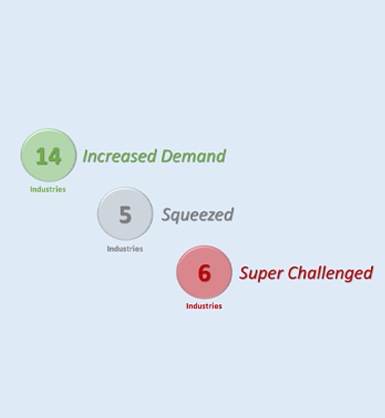 Beneficiaries
Digital Health – will go along for the ride with Home Diagnostics and Telemedicine

E-commerce – even the technology resistors are buying online

Health Care – a new focus on health and disease will turbo charge growth

Home Diagnostics –bursting onto the scene like never before

Life Sciences – the world wants the ability to move at near real-time speed

Logistics – the epicenter of developing new supply chains

SaaS – easier access for remote workers

Streaming – quickly developing into a mainstream service

Technology – the cornerstone of many changes taking place

Technology Enablement – bringing technology to more places and processes

Telecom – the backbone of streaming and remote work

Telemedicine – the CARES Act passed last week by Congress; the FCC plans to spend $200 million to support telehealth programs

Trucking – an often-unsung cog in the supply chain

Work Platforms – more ways to collaborate and share work
The Squeezed
A large number in the middle are being squeezed but will turn out OK. These companies have strong cash flow and are being slowed. They are stretching out payments and pushing off non-essential legal needs. The squeezed industries include:
Banking – burdened with getting money where it needs to be in the crisis and hurting from lower interest rates

Big Pharma – unless pursuing coronavirus projects, supply is squeezed and R&D is slowing

Financial Services – asset managers are dealing with changing asset values and risk averse markets

Food and Agriculture – challenged to produce fast enough for customers who may be slower to pay than usual

Mega Cap Manufacturers – these core brands (Caterpillar, Boeing, Ford, etc.) are experiencing demand dry up but have the resources to get through it
This group includes 5 of the largest legal spending industries in the US. Law firms servicing these clients will need to keep a keen eye on cash flow and focus their efforts on essential needs.
The Super Challenged
These clients are experiencing abrupt supply and demand imbalances and dramatic revenue shortfalls and/or asset devaluation – especially in energy. The larger energy companies will likely be able to refinance or restructure their way out of the problem. The smaller organizations, which are still quite large, are looking at court-supervised reorganizations and a ton of litigation around supply contracts.
Energy including Infrastructure and Services

Oil & Gas
The super challenged also include the following industries where demand has all but disappeared.
Airlines

Hospitality

Restaurants

Retail
Look for these industries to restructure, use government programs, and bankruptcies to find their way out. We expect mergers and business combinations to change these companies' economics.
BTI research reveals only 48% of law firms really sit down and analyze their client base. These firms know with certainty and precision their year-over-year retention rate, revenue concentration, and risk inherent in those 2 numbers. Another 37% of law firms go-to-market by industry. Both are smart moves and drive business.
Now, What to Do
Assess your client base. Look carefully at your exposure by client and by industry – in this order. The difference between the assessment process now vs. a "standard" ranking process; past financial performance and lifetime value are no longer reliable indicators. Client feedback is more reliable than ever – and clients are still making the time to talk to BTI in the middle of all this.
There Are Still Opportunities – Find Them. Nurture Them. Build Them. Hold Them.
Most opportunities will reside in the beneficiary industries. You will also find opportunity in the squeezed industries if you can manage to their cash flow and find ways to help them navigate their way through the pandemic. Most of these are large-spending, marquee clients but are currently struggling managing for the conservative outcomes. We have reports of law firms jumping into these squeezed clients deeper than ever – while others are pulling back. Now is the time to jump in if you can manage a slower cash flow.
The super challenged clients present the biggest cause for concern for law firms lacking a robust bankruptcy practice. These clients have some serious and acute needs outside of bankruptcy – taking this work on poses credit risk but you will likely forge some strong client relationships.
The 2 Most Important Steps
Asses your top clients. Then actively decide exactly how to allocate your resources. A pandemic demands more strategy than ever. A diffuse approach reduces your chances of keeping clients – never mind building them. The best strategies will play to the firms' strengths and focus heavily on the beneficiaries and the squeezed. You will find opportunity in the super challenged industries, but the risk reward is different and demands objective criteria to evaluate.
Perform This Analysis At the Practice Level and Firmwide
Act quickly with strategic focus and intent. Smart strategy, client selection, and management is more crucial now than ever.
Thank you to my friend and internationally recognized consultant, Patrick J. McKenna, for help, insight, and collaboration on this.
Be safe and be well.
MBR
Forwarded to you?
Get your own copy every week!