BTI Practice Outlook 2020
BTI Practice Outlook 2020 is your definitive guide to targeting your clients' legal dollars with precision
Guide your business development plans with precision and insight straight from your clients and your potential clients on how they plan to divvy up their outside counsel budgets in 2020
See the highlights of this strategic planning tool for Managing Partners, Marketing & Biz Dev and Practice Leaders below
has been added to your cart!
have been added to your cart!
9 Trends Shaping the Legal Market in 2020
Increased complexity, uncertainty, and rapid growth in risk point to key factors driving litigation in the year ahead. Growth for law firms is dependent on understanding the nuanced shifts companies are making. Law firms looking to grow are tasked with identifying, creating, and exploiting growth segments. Learn more about what these trends mean in the complete BTI Practice Outlook 2020.
New Spending Trend Continues
Our research reveals a $1.3 billion increase in spending with outside counsel—a direct result of increased complexity. Clients want the broad teams, flexibility, staffing, and deep experience which only live in law firms. This translates into large companies' top legal decision makers boosting their spend in 2019—and they plan to add another $2 billion to the market in 2020.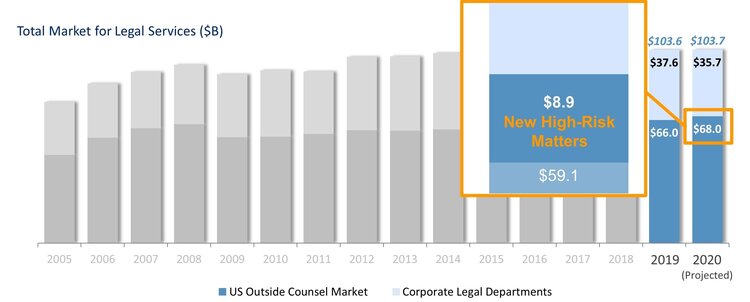 Practices Poised for Growth in 2020
The largest market segments with the least rate-sensitive practices are showing the most growth. 8 practices offer law firms the chance to grab new incremental spending coming into the market. The need to rely on outside counsel is translating into substantive growth.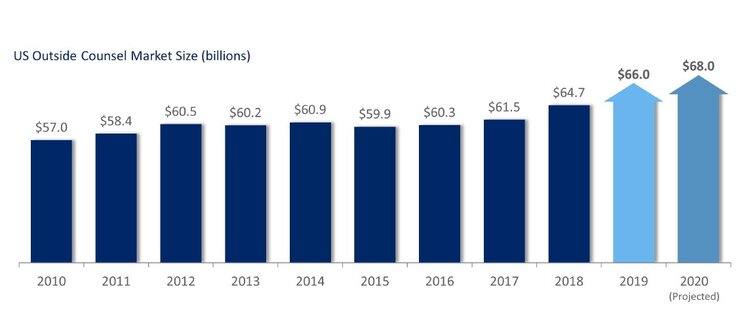 Spending for outside counsel is growing faster than total budget
One of the largest increases in high-rate work our research uncovered in the last 20 years—top legal decision makers at the largest companies expect to spend $9 billion on new high-risk matters. This is the most complex work. Each of these matters is an opportunity to be hired.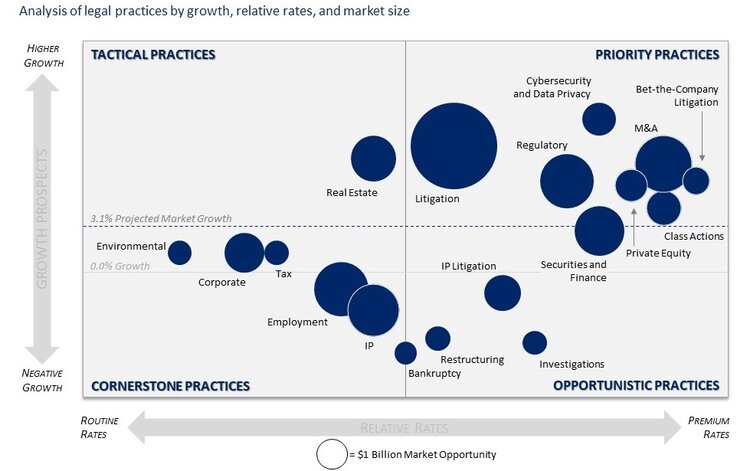 BTI's Practice Roadmap 2020
Explore our in-depth look at how companies are changing the way they allocate their legal budgets in 2020—and what impact these changes will have on the opportunities available to law firms. Learn the distinct set of characteristics for each practice and use them to your advantage to develop premium work with the most effective strategies.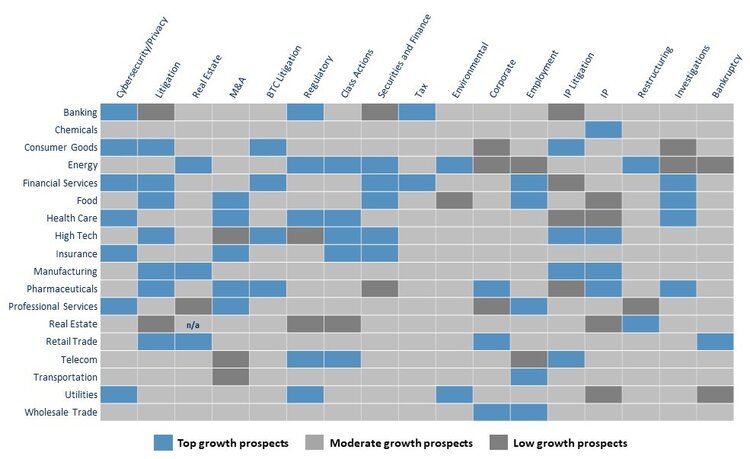 BTI's Industry Opportunity Matrix 2020
We take our analysis one step further and identify the legal priorities companies will be tackling in 2020. Target resources faster and more efficiently by practice and by industry on these fleeting bursts of activity for the next year. Immediately determine which practices and industries will drive the most growth for your firm.
Questions? Comments?
Questions about how to use BTI's Practice Outlook 2020 to targeting your clients' legal dollars and executing business plans with precision? Contact us for more information about our independent research methodology and to learn more details about the market landscape for 2020.